Tomorrow is Frozen Friday in the elementary. Don't forget your $1.

The April Character Kids Breakfast has been moved to next week. April Character Kids will be announced tomorrow during the daily announcements. A note will go home with the April Character Kids regarding the date of their breakfast.

The North Andrew High School track meet is cancelled tonight due to the forecasted weather. JH track at Worth County is still happening. South Holt Varsity & JV baseball in Forest City is still starting at 4:30pm.

The boil order for Oregon is lifted.

7th-12th grade band at the JH and HS Band and Choir Concert on Wednesday evening.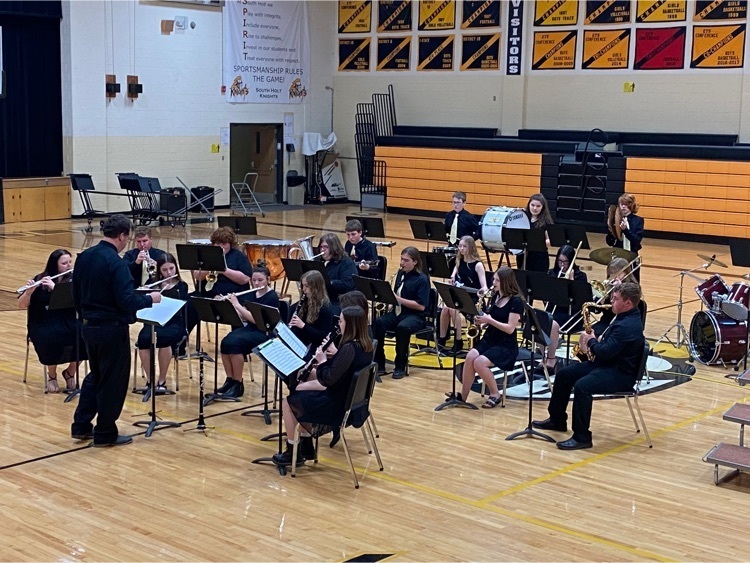 High School Choir at the JH and HS Band and Choir Concert on Wednesday evening.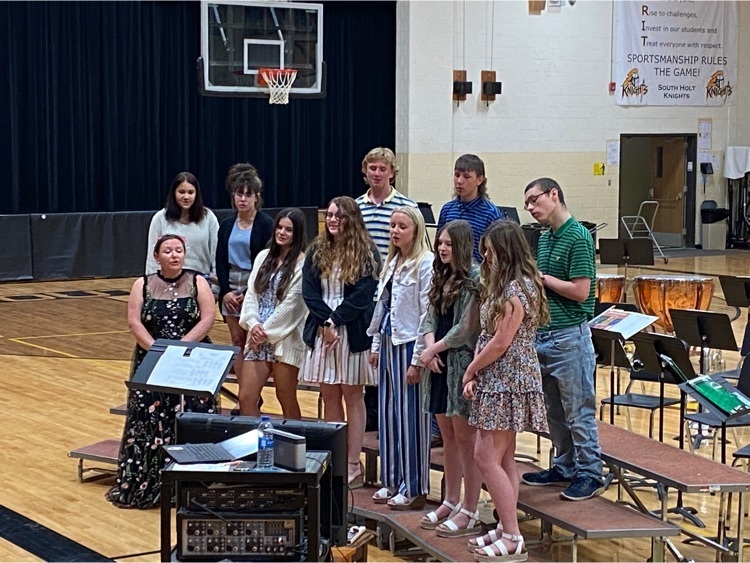 8th Grade Choir at the JH and HS Band and Choir Concert on Wednesday evening.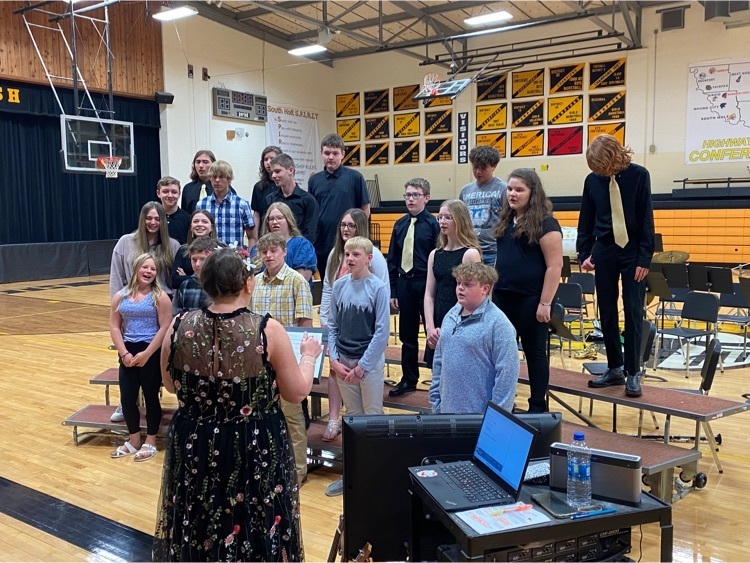 The South Holt varsity baseball team beat Nodaway Valley tonight by the score of 9-1. Go Knights!

The JH and HS Spring Concert will be held tomorrow (Wednesday, April 27) at 7:00 p.m. This is for students in grades 7-12. The Elementary Spring Concert for Grades 3-6 will be held next Wednesday (May 4) at 7:00 p.m. 6th Grade Band will perform at the Elementary Concert.

On Monday evening the varsity baseball team lost to Rock Port 5-1 in Forest City. The JV won 3-2 in the last at bat. Varsity plays again tonight at Nodaway Valley in Burlington Jct. Only a varsity game tonight with the bus leaving at 2:40pm.

MAP testing begins tomorrow for our 3rd through 6th graders. Please help your students get a restful night's sleep and a good breakfast. We are proud of their hard work all year and know they are ready to shine during testing this week and next.

Congratulations to South Holt 5th Grader Eden Allen for her 3rd Place finish in the 275 Conference Spelling Bee.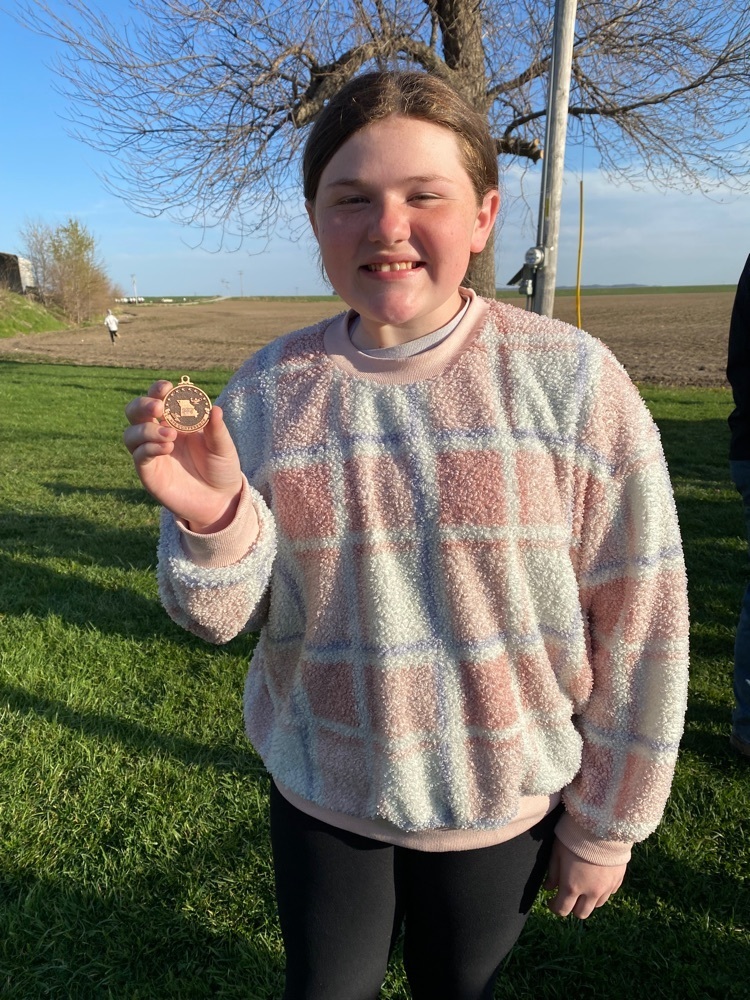 The South Holt FFA Plant Sale will be on May 5th and 6th from 3:30pm-6:30pm. Then continue on May 7th from 8am-12pm or Sold Out.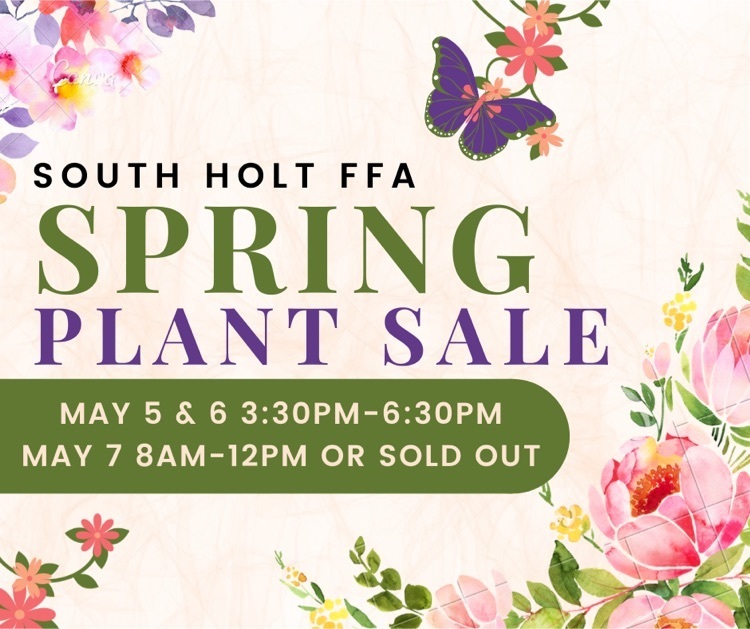 The city of Oregon will be shutting the water off tomorrow, Tuesday, April 26th, at 3:30pm to do tie ins for a couple hours. A boil order will follow.

Senior Night for spring sports (baseball and track) will be on Monday, May 2nd in Forest City immediately after the varsity baseball game, approximately at around 6:45pm. More information will be given to the seniors and their families next week.

Good luck to South Holt HS track as they compete at Tarkio today beginning at 3pm. And good luck to varsity baseball as they play King City at 4:30pm in Forest City. No JV baseball this evening. Only a varsity game this time.

Thursday's South Holt baseball game is being played in Savannah at Duncan Park just north of Savannah HS. This is North Andrew's home field for baseball. No JV baseball game tonight.

Good luck to all South Holt athletes who compete today! JH track is at Rock Port at 4pm. HS track (throwers only) at St. Joe Christian at 4pm. High school baseball is at North Andrew at 4:30pm.

South Holt varsity baseball loses to Northeast Nodaway 4-3. And the JV lost 1-0. Two tough loses in Ravenwood this evening.

The South Holt Elementary PTO is holding a meeting tomorrow (Wednesday) evening at 6:00 in the South Holt Library. Please consider attending to assist in planning Teacher Appreciation Week in early May. All are welcome. You do not need to be an active PTO member to participate. We hope to see you tomorrow evening.