The South Holt JH Basketball Tournament has been going on all week and pool play is complete. The consolation games for South Holt teams are tonight. South Holt girls will play at 4:30pm vs Savannah. South Holt boys will play at 5:45pm vs Savannah. Good luck Knights! The tournament bracket has 4 total games tonight and 2 total games on Friday for a variety of teams. Come support the JH Knights this evening at 4:30 and 5:45.

The South Holt Book Fair will wrap up and finish sales this afternoon. People can come buy book fair items in the school library from 3:15pm until 4:00pm.

Reminder for Elementary: As the weather gets cold, please make sure all elementary students have coats, gloves, and hats. Students go outside daily for recess. If your child does not have a coat, or other cold weather clothing, please contact the elementary office for assistance.

South Holt students and staff are honoring Veterans tomorrow with an assembly at 9:30 a.m. in the main gym. Community members are welcome to attend. We encourage all students to wear red, white, and blue to help honor our Veterans.

The Holt Country 4H is holding a Junior Chef Program for students ages 8-13. The first meeting is tomorrow, November 10 after school in the FACS room. Please contact Kelly Todd at
toddks@missouri.edu
for more information. If your child is participating in this program tomorrow, please let your child's teacher know so that the correct dismissal procedures are followed.

Both the JH girls and boys lose to St Gregory in Maryville tonight! Both teams played hard. The next action for the teams is next week in the South Holt JH Tournament.

The JH girls lose to East Atchison tonight by the score of 11-34. The JH boys win a thrilling game 42-41 over EA. Both South Holt teams play again on Tuesday at St Gregory in Maryville. Go Knights!

South Holt is hosting the Elementary PTO Chili Cook-Off on November 10. Bring the family out for dinner and fun. Don't forget to stop by the Scholastic Book Fair that evening. Contact South Holt Elementary at 660-446-2356 if you have any questions.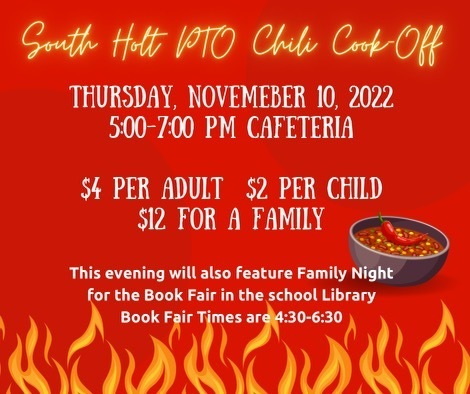 Olivia Prussman ran at the MSHSAA State Cross Country meet yesterday in Columbia. She represented South Holt very well and finished the race. Her placement was 77th out of 176 total runners. Great job Olivia! We are proud of you.

A lot of action in the 4th quarter ends with a final score of 50-20. South Holt loses to Platte Valley and ends their season. Great effort today! Great season!

Knights score with 9.7 seconds left in the 3rd quarter. SH still trails Platte Valley 6-36.

Halftime for football in Barnard. Platte Valley has the lead over South Holt by the score of 28-0.

At the end of the 1st quarter South Holt varsity football trails Platte Valley by the score of 0-22.

The JH boys fall to Rock Port by the score of 40-52 in a great game tonight. Great effort. The JH teams play again on Monday at home against East Atchison.

The South Holt girls lose to Rock Port tonight in Oregon. Played hard!

The varsity playoff game this week at Platte Valley in Barnard has been moved to Saturday due to anticipated severe weather on Friday night. The game will start at 2:00pm on Saturday. Ticketing for this playoff game is all online for all fans 6-years-old and above. See the QR code attached or this link to purchase tickets in advance.
https://mshsaa.hometownticketing.com/embed/event/1592

Tonight's JH games against Rock Port will start at 5:30pm. Both the girls and the boys will have 2 extra quarters tonight. Go Knights!

Reminder…tomorrow (Wednesday) is South Holt Senior composite pictures between 1:30-2:30. And…also it is JH basketball and JH cheer pictures between 2:30-3:30. All students have the flyer and info.

JH girls lose at Savannah tonight. They are back in action on Thursday at home against Rock Port.

South Holt is hosting a Veterans Day Assembly November 11th. Before the ceremony, if all Veterans would fill out the attached form or email their information and/or a picture to be recognized, that would be greatly appreciated.
https://5il.co/1jl8r